Insurance company Baloise developed an online platform to inform young consumers about 'Life'-driven insurances, such as work incapacity, pensions and even deaths. Added bonus: the insurance brokers benefitted as well.
How gonna.be came to be
Some time a go we made a social media campaign for a work incapacity insurance, aiming for a target audience ranging from ages 25 to 50.

The campaign was a success. However, we noticed that the youngest part of the target audience didn't really care about the product.
Which is unfortunate, as even the healthiest youngsters can become work incapacitated due to illness or accidents. Financial consequences can be brutal.
We had to alert the youngsters of the risks as well as their possible safety nets. So began the creation of an independent online platform: gonna.be by Baloise.
A trusty source of information that really doesn't – or doesn't really; big difference – sell insurance policies.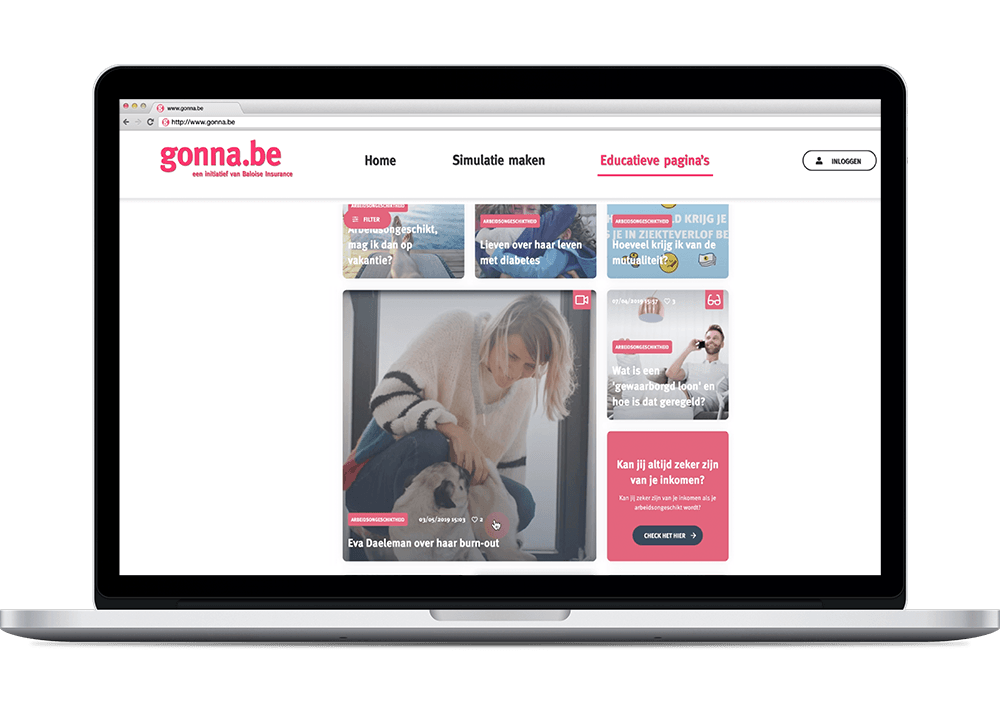 GOAL 1: inspiration and education
Gonna.be's success formula: a fresh and modern look offering blogposts, positive testimonials and instructional videos appealing to the target audience. A smart digital campaign helped them to find the website.
GOAL 2: Lead generation
The simulation offers Gonna.be visitors a surprising look at their financial situation in case of work incapacity. Interesting facts and easy-to-understand icons help the visitors to complete the questionnaire and find an insurance broker nearby.
Digital

campaign
A three-phased funneling strategy guided youngsters from awareness to decision. We served them hot, relevant content depending on their age and the phase they were in.
Gonna.be's successful market entry
Its modern, standout colors and unique visual style instantly drew the attention of the younger target audience. A digital strategy and campaign adopted the eyecatching design, launching the platform like a rocketship.
We accompanied the visuals with a striking headline: 'How is your life gonna.be?'. A philosophical question that makes you think about your future. The question, along with surprising and informative content, made work incapacity a hot topic.
Three birds

, one stone
Make (young) people think about the financial risks of work incapacity and the benefits of an insurance policy. All in clear and simple terms.
Help the people make preparations to get an insurance policy.
Simplify the brokers' work. The simulation tool contains a bunch of information, speeding up the policy process.
A new approach… And it works!
Gonna.be is an independent platform. This means we don't push the visitors to get an insurance policy. It only aims to help them make a future-proof decision.
The launch campaign was a great success.
Spreading a 26K budget over Facebook/instagram, YouTube, Google Display and Google Search, we managed to reach 1 million people in three months. 52.000 unique visitors found their way to the platform. 14% used the simulation tool.